Boost Your Business Connectivity with ADN Broadband's Leased Line Services in Delhi
In today's fast-paced world, internet connectivity has become an indispensable part of our lives. We rely on the internet for everything, from staying connected with loved ones to conducting business operations. However, the quality of internet connectivity can vary significantly depending on the service provider. ADN Broadband is a leading internet service provider in Delhi, providing high-quality leased line services to customers.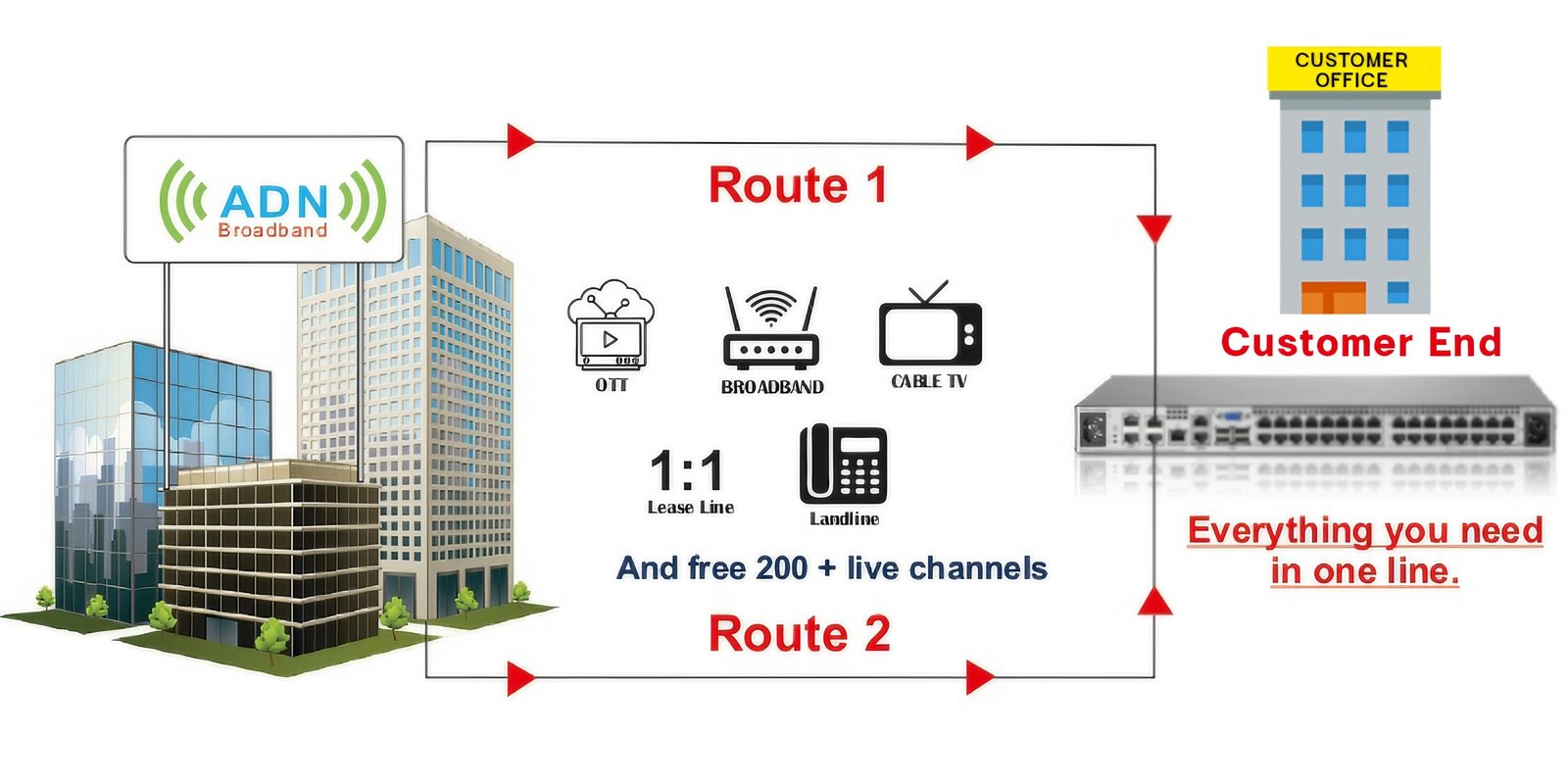 Apply For Lease Line & Get
Free

:-
Static IP as per requirement
FREE Broadband
24×7 Support
Dedicated Manager
Extra Dual Band Router for use
Free Landline Connections
Free Cable TV - DEN ADN
2/3 Route Fiber Backup
FREE OTT Package
ADN Broadband's Leased Line Services
To meet the diverse needs of our customers, we provide a variety of leased line services. The services are provided by the company via a fibre optic network, which ensures high-speed and dependable connectivity. ADN's leased line services include the following key features:
Why choose ADN Broadband's leased line services?
Customers should choose our services for a variety of reasons. Among the many advantages of the company's leased line services are:
Finally, our leased line services are an excellent choice for businesses and organisations that require fast and dependable internet connectivity. The company's fibre optic network ensures high-speed connectivity ideal for data-intensive applications, while customizable bandwidth options allow customers to select the bandwidth that best meets their needs. Our 24/7 support ensures that any issues are addressed as soon as possible, and the company's competitive pricing makes it an affordable option for businesses of all sizes. Overall, ADN Broadband's leased line services are a great option for Delhi businesses and organisations that need fast, dependable, and customizable internet connectivity.
Frequently Asked Questions
Each location varies relatively in terms of how quickly the actual connections and wiring of the Wi-Fi / Cable Service Connection can be installed at a specific dwelling. Nonetheless, we strive to deploy connections in 1-3 days, while this may occasionally take longer depending on the viability of the location you wish to get it done.
We guarantee that using ADN's Wi-Fi / Cable TV services won't incur any additional costs outside the Plan payments and the one-time security fee deposit for broadband. After the first month of free internet by ADN, the chosen plan's monthly rental is still applicable for the provision of internet access. Hence, aside from the charges of the plan you choose to use to access your internet via ADN broadband and a minimal security fee deposit. If you wish to not deposit the security fee, we have multiple without security plans also you can opt for that.
Yes, it is possible to Shift your ADN broadband Wi-Fi / ADN Cable Service Connection to another location. You can request the broadband service/cable TV service to another location by registering your request by contacting the contact details provided on the website. You can contact our time during the office hours and if we service the new location, our team will register the request for a location shift. And Within 2-4 days, ADN's team will shift the connection to your newly desired location, while this may occasionally take longer depending on the viability of the location you wish to get it done.
ADN offers an online payment option available on our UPI id, where you can pay for the new plan and can get the account renewed within seconds by getting in touch with our team. You may raise a request for payment pickup from your residence or by contacting the number provided in the SMS you get as a notification for renewal. Though ADN's Team will be contacting you from time to time about the feedback, new offers and the renewals.
The currently chosen plan cannot be modified before the billing period's expiration, therefore no. Plan changes are only possible after the current subscription has expired. We can change the plans but additional charges are applicable.
Why are Leased Line Services Important?
● Unmatched Reliability : Leased lines provide unparalleled reliability compared to standard broadband connections. With dedicated bandwidth, you won't experience fluctuations or slowdowns, ensuring a smooth and uninterrupted online experience.
● Symmetrical Speeds : Whether you're uploading large files, hosting web conferences, or utilizing cloud services, symmetrical speeds offer enhanced efficiency and productivity. This makes leased lines perfect for businesses that rely heavily on data-intensive tasks.
● Guaranteed Performance : Leased lines come with Service Level Agreements (SLAs) that guarantee a specific level of performance and uptime. ADN Broadband ensures you get the speed and service you pay for, backed by our commitment to excellence.
● Data Security : Leased lines offer high security, as the connection is exclusive to your organization. This minimizes the risk of data breaches and unauthorized access to sensitive information.
● Scalability : As your business or organization grows, so does your need for bandwidth. Leased lines are easily scalable, allowing you to increase or decrease your bandwidth per your requirements.
Who Might Use Leased Line Services?
● Businesses : Small, medium, and large businesses that heavily rely on uninterrupted internet connectivity for critical operations, such as data transfers, video conferencing, cloud services, and more.
● Educational Institutions : Schools, colleges, and universities that require a stable and fast internet connection to support online learning, e-learning platforms, and research activities.
● IT Companies : Software development firms, IT service providers, and tech startups that need robust and secure connectivity for their clients and internal operations.
● Healthcare Facilities : Hospitals, clinics, and medical centers that rely on electronic health records, telemedicine services, and real-time patient monitoring.
● Government Organizations : Government offices, agencies, and institutions that deal with sensitive data and require a secure and efficient connection for their day-to-day activities.