Best Internet Broadband Services Providers in Delhi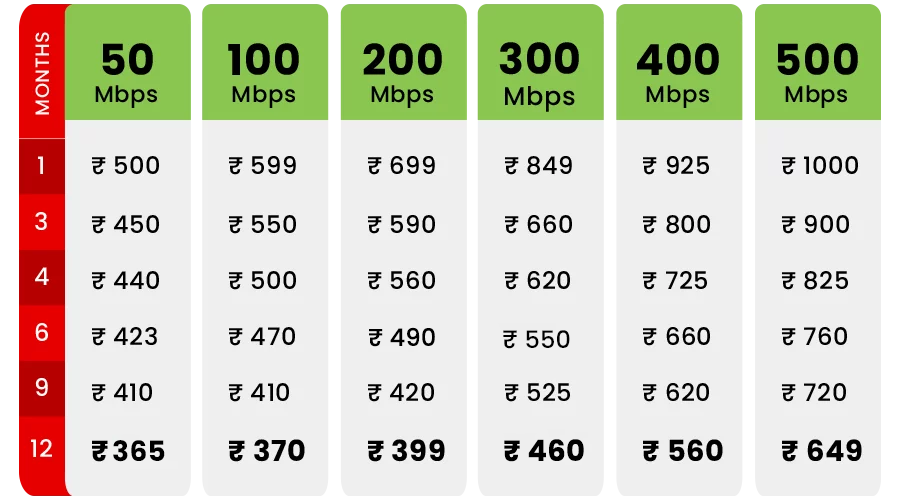 ADN Broadband's internet services:
We offer a wide range of broadband plans to suit the needs of various customers. Here are some of the key features of ADN Broadband's internet services:
What sets ADN Broadband apart?
Finally, ADN Broadband is a dependable and reasonably priced internet service provider in Delhi that provides high-speed internet services with flexible plans and unlimited data. Customers in Delhi value the company's commitment to providing excellent customer service, transparent pricing, and simple installation. If you need a fast and dependable internet connection, ADN Broadband is a good option to consider.
Frequently Asked Questions
Each location varies relatively in terms of how quickly the actual connections and wiring of the Wi-Fi / Cable Service Connection can be installed at a specific dwelling. Nonetheless, we strive to deploy connections in 1-3 days, while this may occasionally take longer depending on the viability of the location you wish to get it done.
We guarantee that using ADN's Wi-Fi / Cable TV services won't incur any additional costs outside the Plan payments and the one-time security fee deposit for broadband. After the first month of free internet by ADN, the chosen plan's monthly rental is still applicable for the provision of internet access. Hence, aside from the charges of the plan you choose to use to access your internet via ADN broadband and a minimal security fee deposit. If you wish to not deposit the security fee, we have multiple without security plans also you can opt for that.
Yes, it is possible to Shift your ADN broadband Wi-Fi / ADN Cable Service Connection to another location. You can request the broadband service/cable TV service to another location by registering your request by contacting the contact details provided on the website. You can contact our time during the office hours and if we service the new location, our team will register the request for a location shift. And Within 2-4 days, ADN's team will shift the connection to your newly desired location, while this may occasionally take longer depending on the viability of the location you wish to get it done.
ADN offers an online payment option available on our UPI id, where you can pay for the new plan and can get the account renewed within seconds by getting in touch with our team. You may raise a request for payment pickup from your residence or by contacting the number provided in the SMS you get as a notification for renewal. Though ADN's Team will be contacting you from time to time about the feedback, new offers and the renewals.
The currently chosen plan cannot be modified before the billing period's expiration, therefore no. Plan changes are only possible after the current subscription has expired. We can change the plans but additional charges are applicable.
Your Ultimate Solution for High-Speed Broadband in Delhi!
In this digital age, staying connected is not a luxury but a necessity. ADN Broadband brings you the best internet broadband connection and WiFi services in Delhi, catering to all your connectivity needs. Broadband services are the lifeblood of modern communication, offering high-speed internet access that revolutionizes the way we live, work, and connect with the world. Whether you are a student, a professional, a business owner, or a tech-savvy individual, broadband has become an indispensable tool for everyone.
1. Students and professionals rely on broadband for online education, research, and remote work. Our reliable and fast internet services allow you to attend virtual classes, collaborate on projects, and meet work deadlines without disruptions.
2. For businesses, broadband is the backbone of seamless operations. From cloud-based applications to video conferencing, a robust internet connection from ADN Broadband ensures smooth communication and boosts productivity.
3. Entertainment enthusiasts can also indulge in uninterrupted streaming of their favorite movies, TV shows, and videos with our high-speed WiFi services. Say goodbye to buffering and say hello to an immersive entertainment experience. Broadband is not just about convenience; it is about empowerment.
In today's data-driven world, a fast and reliable internet connection is vital for accessing information, exploring new opportunities, and staying connected with loved ones. At ADN Broadband, we understand the importance of reliable connectivity, and that's why we offer top-notch services that ensure you never miss a beat.